Moisture and Shrinkage
Very little Shrinkage with Kiln Dry boards!
PIONEER LOG SIDING ONLY USES NEW DOUG FIR, KILN DRY #2 BOARDS.
WE NEVER USE GREEN LUMBER AND HERE'S WHY:
Kiln dried lumber is lumber that has been heated in a kiln so that it has a low moisture content. When the drying process is complete, the lumber usually has low moisture content of between 6% and 8%, making it significantly dryer than green lumber; or air-dried lumber. Many hardware stores and lumber companies stock such lumber for their clients, and this type of wood is ideal for a wide range of wood working projects.

NOTE: If you are considering reclaimed square logs from an old existing cabin site please consider a bit more: hidden larva, heavy moisture, brittleness and crystalizing of the deteriorating wood. Not to mention all of the logs and labor costs ahead.

Pioneer Log Siding is completely new but historically aged. It's a simple light weight siding installation compared to real square logs and should accomplish the same results.
We create Pioneer Log Siding but do not install it.
When ordering raw un-stained Pioneer Log Siding boards and other Pioneer products please stain before you install and as soon as possible to avoid warpage on both sides and edges.
IMPORTANT: We highly suggest you avoid dampness and keep your boards well covered before you install to prevent extreme warpage and twisting. This is recommended if you are staining them or not and also helps for an easier installation. Once chinked let your Pioneer Log Siding age gracefully.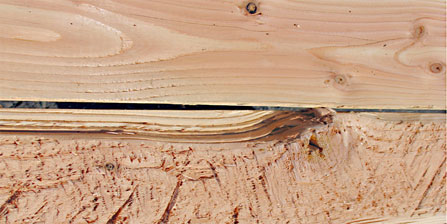 After Custom Crafting and Staining your historic Siding is ready for delivery.